Graves disease
The disease was named after Robert J. Graves who first described it in 1835. Hyperthyroidism is an autoimmune disease that results in the overproduction thyroid hormones. The disease affects approximately one person in 1,000. It occurs more frequently in women than men, and most often between the ages 20-40. (1)
Graves disease is a result of a malfunctioning immunity system attacking the thyroid gland. This attack causes an overproduction of thyroid hormone. It can lead to a variety of symptoms including anxiety, weight loss, sweating and rapid heartbeat.
Graves disease, if left untreated can cause serious health issues such as heart failure and osteoporosis. Most cases can be managed with medication or surgery.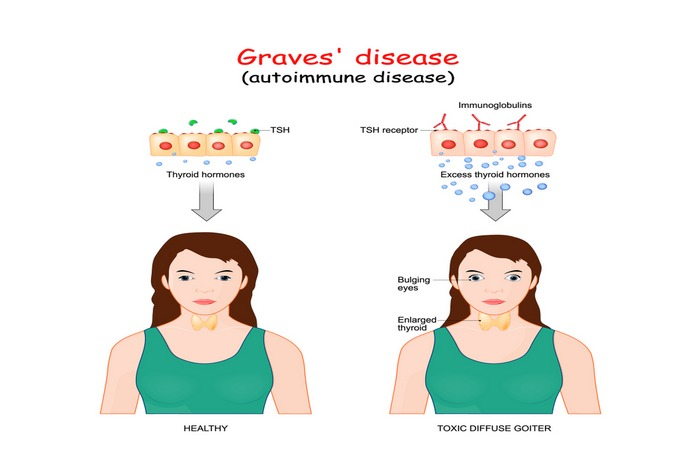 Pathophysiology
Graves' disease is an autoimmune condition that occurs when the body produces antibodies against the thyroid gland. The thyroid gland, located at the front of the throat, is responsible for the production of hormones that regulate metabolism. The body mistakenly attacks the thyroid gland when it produces antibodies in this condition. These antibodies (IgG) bind with receptors on thyroid glands and cause it to produce excessive amounts of thyroid hormone. (2)
According to studies, patients with Graves disease have higher IgG antibody levels than healthy people. These antibodies are thought to mistakenly attack the thyroid gland and cause it to produce excessive thyroid hormone. It is not yet known how IgG antibodies contribute to Graves' Disease. More research is required to understand their role.
It is still not fully understood how Graves disease occurs, but the theory is that antibodies produced by the thyroid gland overactivity bind to receptors in the cells of pituitary. The pituitary produces more thyroid-stimulating (TSH) hormone, which in turn causes the thyroid to produce thyroid hormones.
Overactivity of the thyroid can cause a variety of symptoms including anxiety, weight loss, rapid pulse rate, sweating and rapid heartbeat. Graves' disease has no known cause, but is thought to be caused by genetic and environmental factors.